So you want to be a paid writer? Or you *are* a paid writer, but feel overwhelmed by clients, invoices or strategy. I get it — I've been there. In the past 5 years of being a freelance writer, I've learned a thing or two and I want to share it with fellow writers.
Learning how to stay organized, ahead of the game and map out your salary game for the year. It can be a LOT — but there are ways to make it easier and get yourself more settled long-term.
>>>> 10 Services You Can Offer as a Freelance Writer
Paid Writing Tips You Need
Paid writing isn't just something you flip on and off. It takes work, hustle and humility. For that reason, you've got to get yourself under control. You've got to get systems, goals and community around you. As a season freelance writer that likes to get paid, here are a few tips that have helped me over the years.
Have an invoicing system. Whether it's Quickbooks or your own personal Google Sheets, find a way to make sure you know your are invoicing on time and checking back with clients. You could easily miss a payment if you're not slightly organized!
Diversify your clients. I love a good anchor client, but lean too heavily on one account and you may find yourself in trouble when they don't need you anymore. I would aim to get no more than 40% of your income (at most!) from one client. Personally, I like to have a few smaller and a couple of large ones in the mix.
Get plugged into the job boards. There are multiple freelance writing job boards on the Internet. Facebook groups, email newsletters and even calls on Twitter. Get plugged in so you are never dry for jobs to apply for.
Stay active on social. It can be a thorn in your side, but staying active and engaged on social media, where clients and colleagues are hanging out, can be a boon to your business. You'll see opportunities and, more importantly, opportunities will see YOU!
Brand is better. The more you become known for writing on a particular subject or niche, the more likely it is that people will think of YOU to work with them. Whether it's tech writing or covering a policy issue in the news, when you become known for it, people will come to you. What can you stand out for?
>>>> 5 Strategies to Increase Your Writing Income
Get More Paid Writing Clients
By following the tips above, you are moving in the right direction. Let's talk about a few more ways you can get and keep a sustainable income while freelance writing. There ARE jobs out there. To be honest, there are too many ever even apply for.
Are you ready to get pro-active? I love this quote from Adam Grant: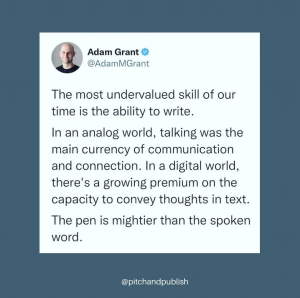 Letters of Intent: What Are They?
Writing LOIs (Letters of Intent) are one of the best-kept secrets to finding well-paid work, but it does take a little sleuthing. Spend some time figuring out where you'd like to write! LOIs are essentially cold-call emails to organizations or businesses you are interested in working for.
Do a little digging. Are the hiring? Does their copywriting need an upgrade? Could you help them and how? All you have to do is figure this out, pop your offer into an email and put some feelers out. It doesn't always work right away, but you've reminded them or introduced yourself as a solution to a problem. Whether now or months down the road, you are planting seeds for writing jobs!
For more on this, I recommend "The Freelance Content Marketing Writer" by Jennifer Goforth Gregory. She is the queen of these!
Get Anchor Clients
To have a successful freelance writing career, you'll need a paid writing job strategy that works. This will most certainly include anchor clients who supply the bulk of your income. Depending on your personality, you'll need to go heavy or light on this. Some writers like to always be on the prowl to find new work. Others would much rather feel security!
If you can find sustainable clients that work well with you hold on to them. What can you do for them on a monthly, consistent basis? Prove your value and showcase that in your offer. Help them see how much easier you make their lives! Many anchor clients start out with great LOIs!
Check out one more great place to find paid writing jobs:
View this post on Instagram
I've been working as a professional writer for over 15 years and I love to see writers succeed in their mission to get paid and published. I want to help you do that.
Are you ready to take this to the next level? Are you ready to get your strategy in order? Get your writing in order? If you aren't already on my email list for writers, that's your first step! 
Maybe you've already joined the email list and are ready for something more. Consider jumping into my signature course, Bragworthy Bylines: Get Paid & Published — a writing course designed for a writer like you. Check out alllll the details here & shoot me a DM on Instagram @pitchandpublish if you have any questions!